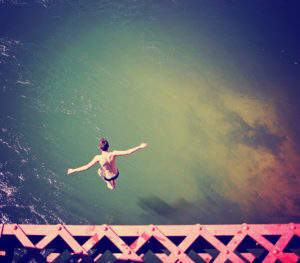 (Reading time: approx. 5 minutes)
When I was first offered the opportunity to teach a workshop years ago, my heart said, "oh yes!" but my head said, "oh no!" Deep within me it felt absolutely right to be leading a workshop, but my mind was full of fears and doubts…
"Who am I to lead a group, to present myself as an expert?"
"What if I stand up in front of the room and forget everything?"
"What if they hate it? What if they get up and walk out in the middle?"
Like many people in this country, I dreaded public speaking when I was younger (ok, true confession, part of me still gets a bit nervous). Even the thought of standing up in front of the class and delivering a short talk at school made me queasy. It was like all the blood would drain out of my brain, rendering it useless, and into my face, lighting me up like a beet.
Given this, you might think I'd be the last person to sign myself up to lead a group voluntarily. Yet, I couldn't deny that teaching also felt absolutely right. There was a quiet voice in my core telling me that leading groups and workshops was one of my gifts and part of my purpose. How could I say no to that?
It turns out that I actually LOVE facilitating groups and leading workshops, even if it still sometimes scares me. When I teach a group – even one that goes late into the evening – I feel energized and even a bit wound up afterwards. But I would never have discovered this if I had listened to the voice of fear and declined the opportunity.
Over the years as I have worked with more and more people, I have found a common thread in this experience: many of us want to, or even feel called to, do something that scares us.
In fact, the more we feel drawn to undertaking a particular path, the more fear it can stir in us. This path could be related to our career, getting involved in a relationship or making more friends, having a baby, going back to school, or leaving a relationship. It's not always this way, of course. There are times when we feel compelled in a direction that feels natural to us. Most often it seems there's a blend, an irrational mix of comfort, confidence, and terror evoked by our desires.
One reason for this lies in the degree of risk we perceive to be involved. If an activity feels like part of our life purpose, it can be thrilling but also add pressure. When it feels like the stakes are high, fear and doubt are often close by. We can be haunted by questions like, "What if it doesn't work out? What if I'm wasting my time? What if it turns out I'm no good at this? What then?"
Now that I have more faith, I've realized that, as long as I do my part, if I'm on the right path then my success is inevitable. Doing my part means being active, taking steps toward accomplishing my dreams. It means braving up and following the little inner voice to do even the things that scare me.
On my own journey and in my work with hundreds of people, there are strategies that I've found helpful in persevering past doubt. Here are a few of them:
Rehearse Ease. Whenever we do something unfamiliar, the brain's threat watchdog, the amygdala, goes on alert. In fact, the amygdala scans all incoming information from our senses and from the cortex. Since the cortex is spectacular at imagining things, the amygdala reacts to scenarios we are imagining as well as events that are transpiring in real time. That's why even *thinking about* doing something that scares you can elicit the fight, flight, or freeze response (otherwise known to some of us as the "eat, binge watch TV reruns, or get lost in FaceBook" response). Luckily, we can use this to our advantage by imagining ourselves carrying out the activity with ease. This works best if you imagine it just a few minutes at a time, frequently (daily works well), and in as much sensory detail as possible.
Break it Down. Another way to help avoid triggering the amygdala is to break down a goal into small, manageable steps. Again, the key is to take action a few minutes at a time, repeated over time. This repetition creates and reinforces a new neural pathway, which is the structure of habit in the brain. Make a date with yourself to do just a little bit toward your goal most days. If you find you're not getting to it, make the step even smaller. Over time, you'll find yourself feeling encouraged by the progress you're making, which makes it even more appealing to keep going. (You can read more about this in the blog post, The Neuroscience of Changing Habits.)
Focus on the Supportive Inner Voice. We typically have many aspects of ourselves that contribute to our inner dialogue. Often there will be a part of us that knows we are on the right track and fully capable of achieving our goal. Simultaneously, there will be other parts of us who express doubts, perhaps dredging up past failures and generally raining on our parade. It can help to "talk back" to the fearful voices by saying to yourself, "Thank you for your input, and right now I'm choosing to listen to the Part of Me That Knows." Over time, this supportive inner voice will get clearer and louder, while the voices of fear and doubt will lose gusto.
Collect Reasons to Keep Going. The voice of fear and doubt will offer us a myriad of reasons to give up. Like a detective building a case, start gathering evidence that you're on the right track. This might include positive feedback and compliments from friends, family, clients, or others. At times it can be easier to accept someone else's positive evaluation of us than it is to accept our own. Other people see gifts and talents in us long before we are ready to own them. For me, my case for continuing also included intuitive information and night dreams that encouraged me.
Build Trust. One way we can begin to open doors to new ways of thinking is to ask ourselves the same question over and over. Try playing with the question, "What would it be like to trust that things will work out?" or "What would it be like to trust that I'm capable of doing this?" See if you can feel that trust, even 2% more than you did a moment ago. Our plans don't always materialize the way we had hoped – sometimes things work out in a way that's even better. Trusting that things will work out means trusting that, even if it doesn't transpire the way you imagined it would, in the long run there will be aspects that you can genuinely appreciate and enjoy.
Get Support. Just knowing that someone else is on our team, walking the path of challenge and celebrating with us, can go a long way towards our success. You aren't the only one who has fear come up around something you really want in your life. It can be a powerful asset to have a supportive person you can reach out to just before taking a step that scares you, someone who understands what it means for you to do it, and who can give you a big "Woo-hoo!!" and reflect the depth of that accomplishment back to you once it's done.
It's common to both really want to do something and be frightened by or anxious about the idea of doing it. You don't have to let fear be the boss of you. You can do it! Start today using one of the strategies above or by approaching it in a way that has worked for you in other situations.
https://true-radiance.com/wp-content/uploads/2017/06/2017-06-12_Persevere-Past-Self-Doubt.jpg
877
1000
Susan Pullen
https://true-radiance.com/wp-content/uploads/2015/04/radiant-logo-big-text-copy-300x104.jpg
Susan Pullen
2017-06-12 11:53:42
2017-11-07 23:40:27
When What You Want Scares You